Bulk Water Delivery Services
Bulk Water Delivery Services
Communication is the key when organizing and coordinating water delivery for your project! Our knowledgeable office personnel are constantly in contact with either the homeowner or the site contact to insure that everything runs smoothly!
Our 6,000 gallon stainless steel trucks deliver fresh, filtered municipal water in double conical trailers, which means that they drain 100% of their contents every time. No need to position the trucks "just so" uphill or downhill, which a straight tanker requires.
Our friendly professional driver, touch base with the appropriate people before and during the delivery. We firmly believe that it is better to have more interaction than not enough! Our drivers take the time to reach out and connect while in transit to prevent any unforeseen delays. While delays do happen, we will do everything we can to prevent them!
Contact us if you are in need of bulk water for any size job or project. We are here to help! 630.985.1600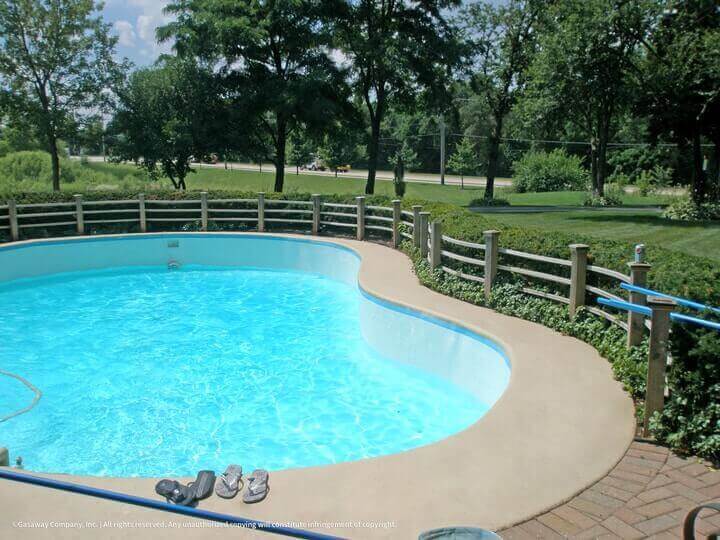 Swimming Pools, Hot Tubs and Ponds
Gasaway Distributors Inc. is the only bulk water provider in Chicago to offer semi tanker service as well as having a fleet of smaller trucks. We are able to assist customers who cannot be serviced by our larger semi trucks based on logistical issues, or simply need less than 2500 gallons of water.
Due to the weight of a loaded semi truck, we will not drive on residential asphalt driveways, while our smaller trucks have no issues with this.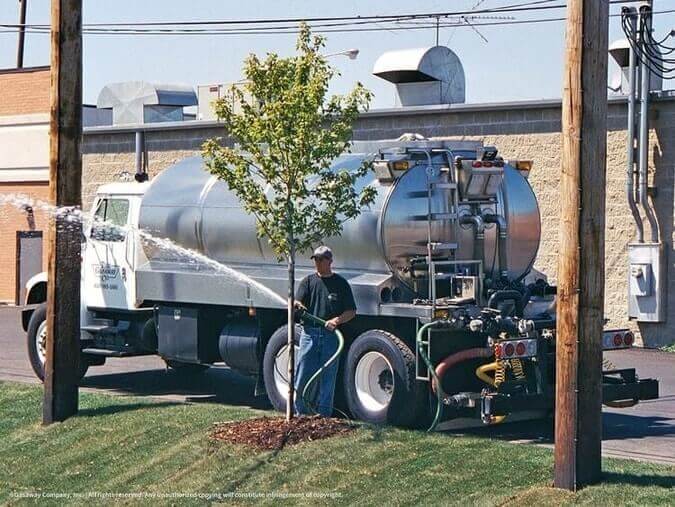 Landscape Watering
Often water is not readily available for tree, shrub or lawn irrigation. Other times drought situations can result in water departments imposing watering bans. Regardless of the reason you need water delivered, we can be there with a variety of trucks that are designed to meet your landscape watering needs. All of our trucks are equipped with hoses, spray nozzles and fittings. Hydraulic pumps on board assure safe and efficient delivery.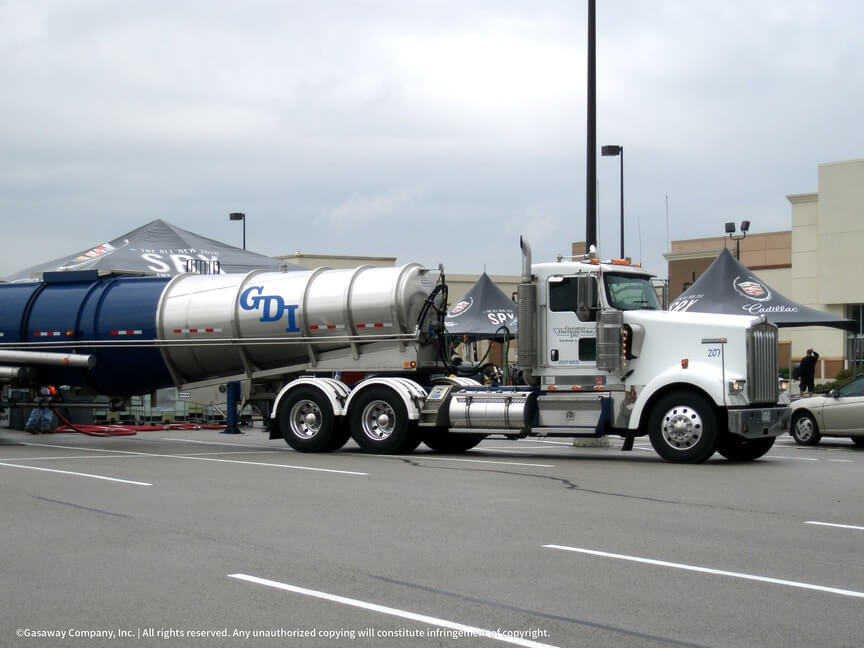 Special Events
Water Delivery Whenever & Wherever You Need It
Special events is a sweeping term that can mean a Festival, Fair, Farmers Market, Sports Tournament, Holiday Parade, or even a Product Demonstration. Sometimes water is not readily available. Many locations require that tents be tethered to drums for ballast rather than staked into the ground or pavement. We are able to supply water for barrels, refill portable toilet holding tanks with water, and even provide water for a slip and slide if you do not have access to a hose.
We have done everything from providing water for a giant water slide featured on television to filling tanks for a traveling fish show for the State of Illinois DNR.
No job is too big or too small – just ask!
Fresh, clean water delivered to your job site when and where you need it! 630-985-1600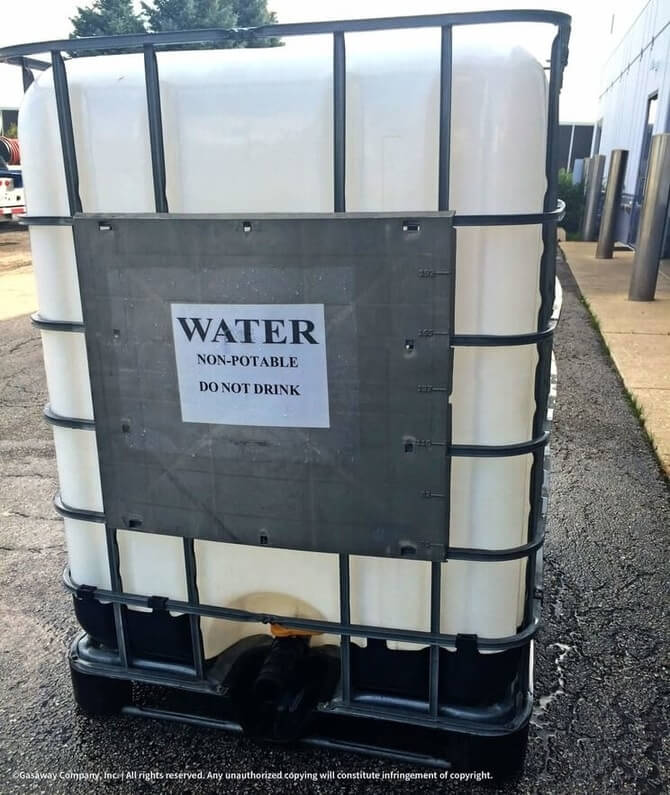 Water Tote Rentals
Don't have water on site? Is the lack of water stopping your project from moving forward? No problem – we have totes for rent in sizes of 275 gallons and 330 gallons.
Our totes consist of a large plastic bladder encased in a metal frame that can be easily moved when empty, or moved with a forklift when full.
Each tote has an on/off ball valve, and we can also provide a garden hose adaptor for easy hook-up to your hose. Our totes are gravity fed and are not set up with a pump.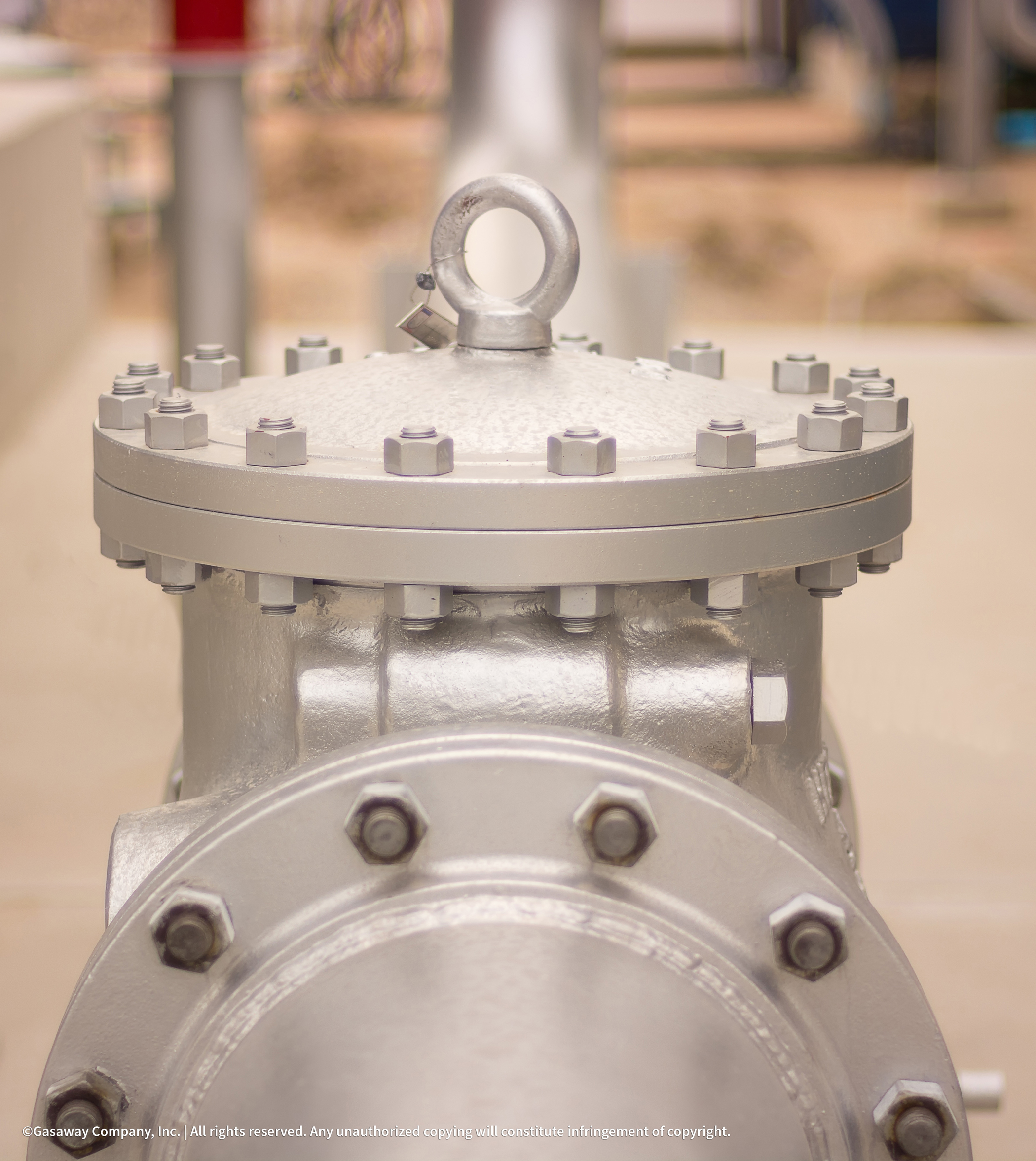 Construction Sites
The need for water on construction sites is very wide ranging, and water sources are not always readily available. More importantly, you need it when you need it and not at the convenience of someone else. Whether you are hydro testing water supply lines, installing underground tanks, demolition dust control, or testing pipe lines…
Gasaway is able to supply all your on-site bulk water needs. We have several size trucks (with or without spray bars) to do the job – our tankers hold 6,000 gallons of water, our straight trucks hold 2,500 or 1,500 of water, and our smaller landscape truck holds 750 gallons of water.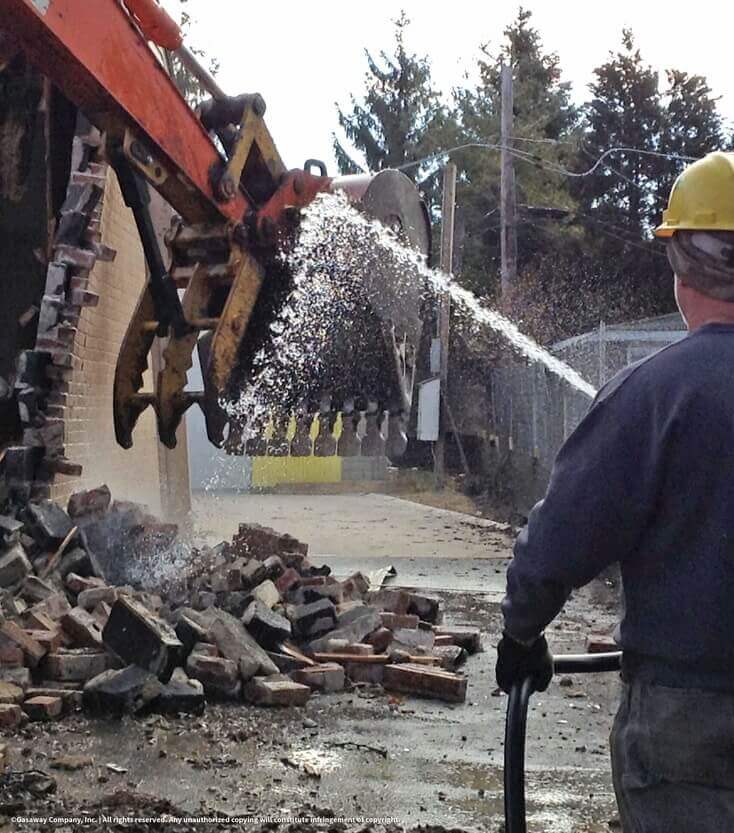 Demolition Sites
More and more Illinois communities are requiring contractors to have dust control measures in place when demolishing buildings or homes in residential areas. These communities are trying to minimize the effects of PM10 particulate, which is of concern to human health as the particles can enter the lungs, causing breathing and respiratory problems. These particles can also carry adhered carcinogenic compounds into the lungs.
Gasaway Maintenance Company keeps you in compliance with EPA and local fugitive dust control regulations while the demolition is in progress. Our fleet of water tanker trucks has just the right truck to navigate tight job sites with no problem!
The water totes and periodic water fill-ups have really helped keep our project on schedule since we do not have running water on-site. Thank you for the great service!
John M
Thank you for providing the water for the water barrels for the 17th Annual Ribfest Chicago. The event was a huge success! Your help assisted in the creation and smooth execution of this successful event.
Lora Hanlon 

Event Coordinator
Big Buzz Idea Group
The Gasaway Company  |  Romeoville, Illinois  |  630.985.1600